Kawamura's Kobe Beef
"Our policy:
to serve only the finest quality Kobe Beef
We thoroughly pursue customers' agreement /satisfactions. To be called "Authentic Kobe Beef", there are strict conditions to meet. We assure that you can fully enjoy an authentic taste at our restaurant because we deal with the highest class beef called "A5 class" only.
Beef Steak Kawamura makes use of selected Kobe Beefs. Please have your full satisfactions of Kobe Beef bred up to the highest class Kobe beef with an excellent skill of fattening and a flowing affection against the vast backdrop of nature, Kobe Beef Steak cooked at Beef Steak Kawamura.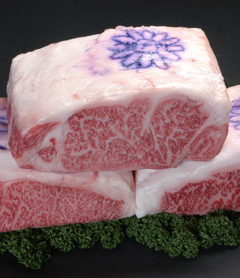 Only a certain group of cattle which passed strict conditions,can be called" Kobe Beef (Kobe Beef Cattle)".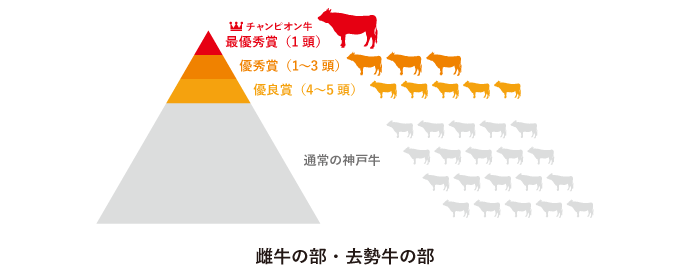 The Highest Award (Champion) Winning Kobe Beef, 1-3 quality award winning Kobe beefs, 4-5 excellent award winning Kobe beefs are selected in each auction market (competitive exhibition/fair) from among cows and bullocks of Kobe Beef Cattle and the others are non-title Kobe Beefs..*1
Our restaurant, Bifteck kawamura always purchase Champion Kobe beef at famous Competitive Exhibition which named kyoshinkai in Hyogo prefecture.
*1

Kobe Beef is recognized by competition in the marketplace. Just because a cow is raised on specific or contracted ranch does not mean that it will be recognized as Kobe Beef.
To satisfy all of our customers
Beef Steak Kawamura is serving with always persistence in Kobe Beef Cattle and its quality.
We'd like to keep purchasing and serving Kobe Beefs to satisfy as many customers as possible.