Kawamura's Kobe Beef
"Our policy:
to serve only the finest quality Kobe Beef
We thoroughly pursue customers' agreement /satisfactions. To be called "Authentic Kobe Beef", there are strict conditions to meet. We assure that you can fully enjoy an authentic taste at our restaurant because we deal with the highest class beef called "A5 class" only.
Beef Steak Kawamura makes use of selected Kobe Beefs. Please have your full satisfactions of Kobe Beef bred up to the highest class Kobe beef with an excellent skill of fattening and a flowing affection against the vast backdrop of nature, Kobe Beef Steak cooked at Beef Steak Kawamura.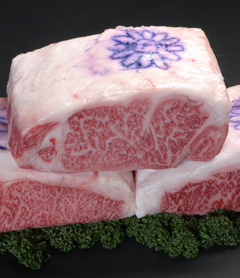 Only a certain group of cattle which passed strict conditions,can be called" Kobe Beef (Kobe Beef Cattle)".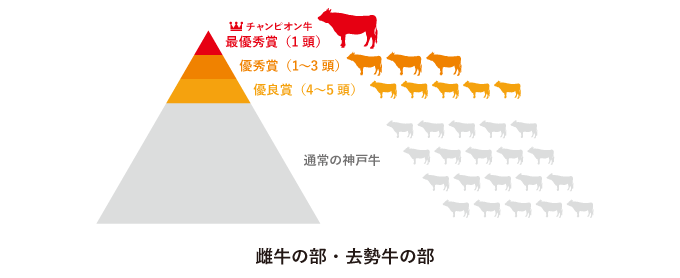 The Highest Award (Champion) Winning Kobe Beef, 1-3 quality award winning Kobe beefs, 4-5 excellent award winning Kobe beefs are selected in each auction market (competitive exhibition/fair) from among cows and bullocks of Kobe Beef Cattle and the others are non-title Kobe Beefs..*1
Our restaurant, Bifteck kawamura always purchase Champion Kobe beef at famous Competitive Exhibition which named kyoshinkai in Hyogo prefecture.
*1

Kobe Beef is recognized by competition in the marketplace. Just because a cow is raised on specific or contracted ranch does not mean that it will be recognized as Kobe Beef.
Our preference
for the rare Kobe Beef Cow
Only a certain group of cattle which passed strict conditions from among Tajima Beef Cattle, which are reputed as the best of all Japanese Black Cattle, can be called" Kobe Beef (Kobe Beef Cattle)".At Kawamura, we take pride in selecting female cows, a rarity among of the already rare Kobe Beef cattle.
Purchased 148 of 425 total cattle
(2007 results example)
In the west market of Kobe Central Wholesale Market (located in Nagata ward, Kobe) which deals with over 70% of Tajima Beefs, 3776 Tajima Beefs have been bid off from Jan. to Dec., 2007. The number included 2124 Kobe Beefs and there were 1699 bullocks and 425 cows in the Kobe Beefs.
Beef Steak Kawamura focused on the cows which only 425 were bid off from 2124 Kobe Beefs bid off last year in the West Market and purchased 148 out of the 425 cows. *2
*2

the parts that we purchased are Fillet and Shoulder butt.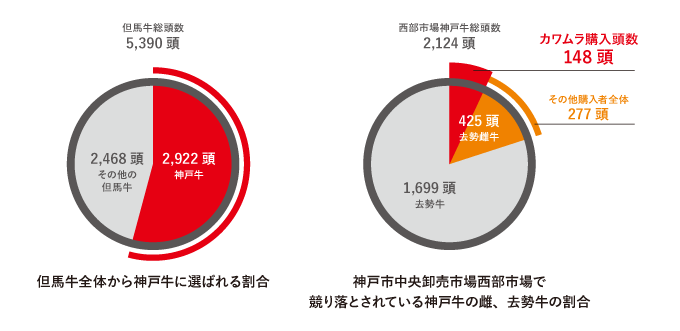 To satisfy all of our customers
Beef Steak Kawamura is serving with always persistence in Kobe Beef Cattle and its quality.
We'd like to keep purchasing and serving Kobe Beefs to satisfy as many customers as possible.